All Blast Power Washing & Painting
We offer our services to the following New York counties; Rockland County and Orange County. In New Jersey, we offer our services to Bergen County.
History
Luis Bermeo is the happy and proud owner of All Blast Power Washing & Painting. Luis prides himself on his hard working ethics and his privately owned business. Luis is always extremely proud of his work and understands that his work is a reflection of who he is, that is why all of his jobs are done properly and thoroughly. It is the goal of Luis and All Blast to make your house and property shine with cleanliness.
Motto
The motto here at All Blast Power Washing & Painting is to always provide the best customer service so that the customer is as happy as they can be. We strive to leave your house and property as something for you, the home or business owner, to shine a spotlight on and be extremely proud of how incredible it all looks. Our goal is to completely satisfy every single customer no matter what their needs may be. Ask any of our previous clients and they will all echo the same thing, Luis and All Blast are the best at what they do.
PREPARATION FOR TOMORROW IS HARD WORK TODAY.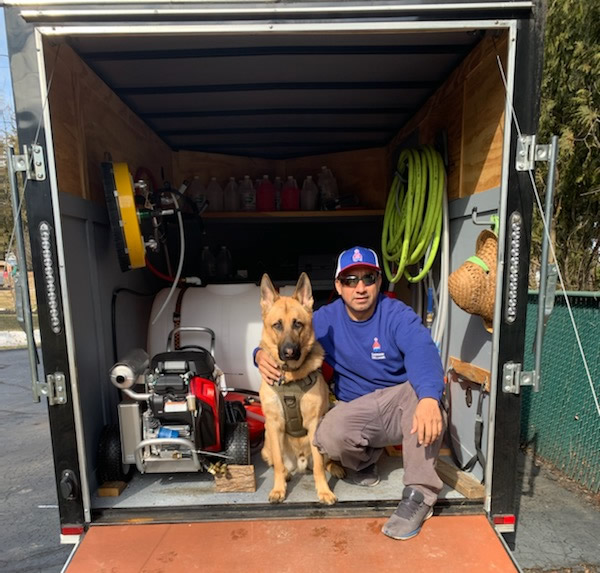 Let me begin by telling you a little about myself. I am a resident of Rockland County and have been in the pressure washing and painting and gutter cleaning industry for over 15 years. I am the owner/operator of my business, so you can be sure the job is done right the first time. I wash, paint and clean the gutters of every house as if it were mine!!! You won't find anyone else who pays more attention to detail than I do. And we guarantee ALL of our work!
When you select All Blast power washing & painting for power washing, painting, or gutter cleaning, you choose a company with more than 15 years of experience. Our care, expertise, and attention to detail has helped us construct a remarkable reputation, and have allowed us  to receive the respect and praise of customers, many of whom have become our best referrals. 
As a result, each time we estimate a job, we are able to provide references who can attest to the standards we hold ourselves to in our respective field of work.
Luis Bermeo's (owner) acquaintances and customers can attest to his high standards and demands for intricacy. When All Blast is at work, you'll never experience a lack of professionalism. And the results are seen beautifully for years to follow.
For a long time I worked for a large company in the same line of work as I do now. And I realized that larger companies, such as the one I was working for, did not place much – if any – attention to the task at hand. These larger companies seldom cared for smaller jobs and would preoccupy themselves with larger more profitable tasks. All of that to say, I found an opportunity and a purpose in these smaller jobs. And furthermore, my motivation to branch off independently and help these clients who were often rather overlooked – and would still be, otherwise. All Blast Power Washing & Painting CRP has never, and will never, place a higher importance on larger jobs. Regardless of size, All Blast places the same amount of value in every customer's demands.
Hurry up and Call Today to get your Free Estimate, or feel free to ask us any questions you may have.
All Blast Power Washing can be reached at 845-461-1481.